We have some very exciting news!
A new forestry course is available at Rutgers University.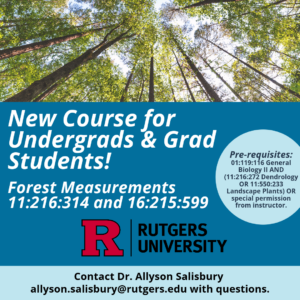 Forest Measurements
Did you ever wonder how much carbon, how many board feet, or how many snags were in a patch of woods? Scientists and land managers can answer these questions and more about forests from well planned and executed forest inventories. Solid inventory data are the basis of effective management of forests for all their benefits.
In Forest Measurements, you'll gain hands-on field and computation experience planning, performing, analyzing, and interpreting forest inventories.
These core skills are the basis of many jobs in forestry and natural resources management. Techniques and concepts we learn in class can also be used for designing research experiments. They also provide a quantitative foundation for understanding policies that assess ecosystem services, like carbon sequestration.
For Graduate Students – this course is listed as a Special Topics Subtitle: Forest Measurements. Graduate students will complete additional assignments to receive credit as a graduate course.
Pre-requisites: 01:119:116 General Biology II AND (11:216:272 Dendrology OR 11:550:233 Landscape Plants) OR special permission from instructor.
Contact Dr. Allyson Salisbury allyson.salisbury@rutgers.edu with questions.